The Earn While You Learn Impact
Increases abortion vulnerable visits
Updated and constantly growing
Perfect for small and large centers
Easy to use for staff and volunteers
Great for community outreach
Brings in new donors
The Earn While You Learn Program
New Updates for 2016!
A Big Change, an Amazing Future!
Earn While You Learn has been helping centers like yours to change lives for almost two decades. The impact has been incredible, and it won't be fully known until we look back from our eternal home! As we are looking forward we are excited to see some amazing opportunities and improvements coming to EWYL in the next few years. We hope you will find these modifications just as exciting as we do!
A Huge Investment
Making new EWYL content is time consuming...and expensive. Heritage House has already invested over $100,000 in the new Spanish update and the new DVDs produced this year . But, it is all investments to make EWYL better for you and your clients! We are committed to spending the time, funds and effort necessary to take EWYL to the next level of compassion-based professional presentation. EWYL is already the go-to program for PRCs who want to make a difference in their clients' lives, but we know we can do more. We believe that we have made the down-payment on that commitment this year, which you can see in the Spanish and Main Content upgrades. In the next few years, the improvements will be even greater!
Updated DVDs and Content
Heritage House has begun working with a professional video production company to produce new, engaging and up-to-date video content for EWYL. Our goal is to bring truth and love into a format that strengthens relationships and prepares clients to make wise decisions. Each video will be practical, documented and designed specifically for the EWYL format. The end result will be professional DVDs that are written and produced for your clients.
Technology Update
Technology is changing the landscape of many industries, and the area of curriculum is no exception. As we begin producing new DVDs, we will be looking to streaming technologies to allow our customers to access their DVDs anytime, anywhere. This means no more scratched discs and, better yet, no more discs to manage! And, we are committed to making your current upgrade dollars transfer; if you upgrade now you will have access to the streaming version of the disc when it becomes available. We are also exploring app-based curriculum, home viewing of home-work literature/videos, online mommy money tracking and much more! The future of EWYL is going to be different but it is also going to be better. We hope to have more to share with next year's releases.
2015 Upgrades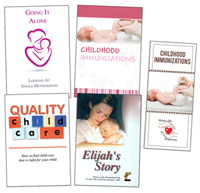 As part of our commitment to stay relevant and accurate we asked you, our EWYL users, which lessons you wanted us to update. Out of that survey came the 2015 Main Curriculum Upgrade. The 10 lessons that most needed updated, according to you, are now completely updated and ready to start helping women and children in your center. With the 2015 Upgrade your EWYL curriculum will be better than ever! Each of these lessons received new DVDs and were completely rewritten to match the new information. And, you can save when you purchase the full update all at once! To see details on the Main Curriculum Upgrade, please go here.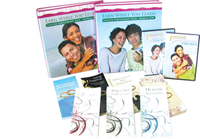 Preview Cohabitation/Partnership Modules
Marriage is on the decline and many couples are making unhealthy choices for both themselves and their families. This new pack helps answer these problems by giving both partners the information they need to make the right decisions. The Partnership Pack includes two modules, one for men, and one for women. Each module has five complimenting lessons that teach vital information about relationships and marriage. For details and to preview the DVD's, go to the Positive Partnerships page.
EWYL Best Practices
We have created a booklet is designed to give you the knowledge you need to run EWYL in your center with the maximum impact on your clients in the most efficient manner. EWYL can be administered in many different formats, but many of the best practices still apply to all centers. To read the EWYL Best Practices booklet, just go here.
The EWYL Advantage
Earn While You Learn is an amazing curriculum program that has changed the lives of tens-of-thousands of men and women across the nation. It has helped almost 1,000 Pregnancy Resource Centers offer both hope and help to those who need it most. It has increased the abortion vulnerable visits to their centers that has lead to many lives being saved. And, it has helped those very same women who chose life for their babies to learn, grow, and understand how to be good mothers to their children. Pregnancy Resource Centers using Earn While You Learn have made generational changes in their communities that will save and change lives for many years to come.
Earn While You Learn (EWYL) covers the many different topics Pregnancy Resource Centers (PRCs) use on a daily basis. The collection of lessons is now 200 strong with 40 different modules divided into 8 different packs. With such a large collection, Heritage House makes a constant and purposeful effort to keep the content and supplies up-to-date. Information changes, dress styles go in and out, and recommendations get more specific. To make sure that EWYL is as effective as possible we consistently replace older DVDs and re-write lessons that need a refresh.
Reaching Abortion Vulnerable Clients
If you are looking to increase your abortion vulnerable clients EWYL is one of the best and most proven method. While many tactics rely on cold-contacts (billboards, phone book, etc), EWYL creates an environment where your services are promoted between friends. The young women in your EWYL classes have circles of friends that include those who are the most abortion vulnerable. When an unplanned pregnancy occurs, many times it is to the friends that women first go - and those friends can tell them about your center. Most centers using EWYL don't just see a dramatic increase in visits for instruction - they also see a significant increase in abortion minded appointments.
EWYL Breaks the Cycle!
Giving things away free only enables our clients and fosters the entitlement mentality. With EWYL, clients come to you to learn how to be good parents. In the process, they form healthy bonds with their parenting instructors. In the end, they are able to walk out of your center with much needed items for their babies and a pride in their sense of accomplishment. The lessons they learn are crucial to the emotional and physical well being of their babies and break cycles of poor parenting, neglect and abuse.
EWYL is EFFECTIVE!
EWYL is written in an easy to use, easy to understand format. The lessons are presented using DVDs, worksheets, reading and verbal information with supporting graphics. Your clients will see, hear and read the information, then take home homework lessons that reinforce what they learned. When this information is presented by a parenting instructor who they come to know and respect, the results are dramatic and life changing.
EWYL is Easy and Complete
EWYL is simple to present and to understand. Each lesson comes with clear instructions and a supply list. The lessons have open ended questions and an answer sheet for the presenter. Each lesson has homework with an answer sheet. It's all there, ready to use. Centers across the country report that it is easier than they ever imagined to implement. Their lay counselors love it! And, they love the fact that they no longer feel like their center is a revolving door, just handing out diapers and clothes but not making an impact on their client's lives. They are finally able to establish long term relationships that allow them to make a difference in their client's lives with God's love and wisdom!